As you may remember, last winter I purchased a motorized bike...
This worked out to be great once I got the larger rear sprocket instead of the small one in this photo.....but the old bike died soon after I got it done.....the bike was purchased for $5.00 at a police auction....
So I bought this new bike a Wall-mart......you can see how far back the engine sits from the rear mounting point.......I stopped working on this bike till I got back to Utah.


My good friend Tony is a teacher of auto body,painting and welding......I gave him the bike and another old bike frame I got for free from a neighbor who moved to Texas.......this is what he did. I can not tell you how hard it must have been to get everything to fit....curved tubes on to round tubes and it must fit the mounts for the little 2-stroke engine........looks like some old factory bike......Thanks Tony!!!!!
I also bought two electric bikes this summer since I have all that solar......lol
I really saw a need for a bike rack, but things just kept getting more and more out of hand.....I follow a fellow RVer Bob who I met last year in Quartzsite....he has a small on/off road Yamaha and I just got all caught up in his blog where he told many stories of his travels through Colorado this summer.
So since I was getting this nice rack, why not a motorcycle to go on it.....who needs bicycles...lol.
I started looking for a small cheep motorcycle like I rode as a kid.....Honda Scramblers, Yamaha Scramblers....small 125cc became 450cc...the rack looks strong.....why not get something that is comfy....?????
Not sure if I need to blame T.B.I. or my friend Jimmy (he went with me to look at bikes, and he is the one who bought my 500cc Enfield Bullet)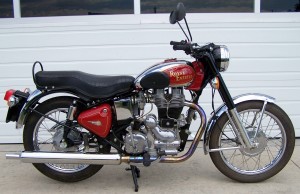 When we left Salt Lake City the other day.....this is what I bought....
Does Derrick look excited to you????
I know....I know....I know....just could not help myself.........can I keep it if I promise not to drive over 45 mph?????? I promise!!!!!
900cc of pure British excellence